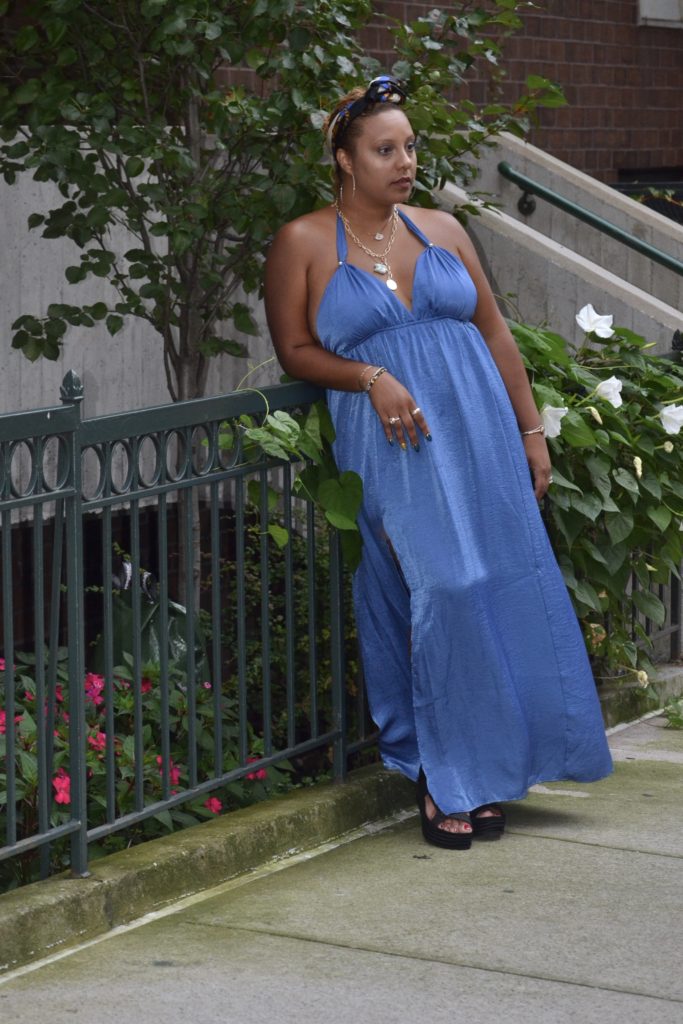 Outfit details: Maxi dress- Lulus, Sandals Callitspring, scarf – Street Vendor (similar) all necklaces from Bloomingdale's..
Fashion week has been in full affect guys and I couldn't be any happier. Being that this is one of my favorite and it's my 4th year attending I feel so blessed for all the shows, events, invites to little get together to meet and network with other bloggers. I love when I meet new bloggers so I can connect and have fun. I literally took the time to enjoy people's company and get to know about them. The difference is before I used to just attend many shows and off course write about the runways style. but this I needed to just change it up a bit and connect more with the ladies and have fun learning about little brands that also are super amazing. However my first day of NYFW was amazing, I ran to at least 5 different shows across town and I loved it due to the fact that it was different designers upcoming with beautiful designs. I met some of my bloggers friends that follow in which I loved wholeheartedly ! Reason is support everyone working for a better cause. Makes me happy to have mingle and enjoy there smiles and outfits! I made my appearance in a lot of the places I was invited even if it was for a few. It's important to always show face and let them know your there and happy to be part of there list!
Now my outfit, the day was cool and I was happy for that. This time I decide to wear a head wrap, blue long dress and sandals. It was perfect for the type of day it was. I was comfortable yet in my own style. Remember stick to your outfits and style no matter wife you go. This dress is from lulus and it fits so lively. I wanted to keep my hair up, so I wrapped  half of my hair for a more fun style.  Simple with not so much stuff on. All my Blogger friends loved it. It was exceptional . Finally shT can I say fashion week is my favorite tome to show my true style, mingle and have fun!!! As always thank you for your support and stopping by! Hope you like this look.
thank you for reading and stopping by, xo Love2bcouture!