Outfit Details: Skirt – Fashion Nova Curve (Link here) Shirt – (Similar), Red Pumps – (Similar) on Sale
*This post is sponsored by Fashion Nova Curve  but all opinions are 100% mine!
Fashion Nova has been around for quite some time and not so long ago they launched their curvy brand in which is Fashion Nova Curve; they range in many different styles. They have absolutely everything from a night out outfit, to jeans, to office attire and much more. Their prices are really affordable where it would not break your bank and days like today, they have many sales for gifts and clothes of your own. you ladies know that here at love2bcouture I focus on the inexpensive part of clothes with style and grace. We can all look beautiful, vibrant and sexy on a budget because honestly you should never break your piggy bank trying to look so cute that eventually you end up broke. It's fine to have a nice item from Gucci, Fendi and all those other brands if one: you can afford it and two: if you are living in your means. However, not saying that you cannot have it in which I own some good items in my closet but I find those items at a great sale, HA! Therefore, my biggest advice always is to wear inexpensive items but it has to fit your body and you can still mix and match with your closet essentials. Remember budgenistas less is more, cheaper and nice quality brings more fun clothes to the wardrobe, Can I Get an AMEN? 
This sweet Collab with Fashionnova Curve is nothing more than amazing because I love their style and you ladies always need some sexy dresses to go with these holidays approaching. Also, I love a simple and vibrant skirt and or dress that can make fall days even more fabulous.
Lets chat a bit about this skirt in which as soon as it came in I became obsessed because of the colors and the fit. Its super stretchy with a zipper on the back. its long over the knee in case you have a big behind you know that's definitely needed because it will make you look voluptuous all around. This skirt can be worn in many different ways due to the colors.
I paired the skirt with my favorite red pumps and a white sweater to make it stand out more. Also, you know accessories make any outfit look unique, so I added black shades and a vintage bag I've had for many years. I attended a friends giving and they wanted no pictures, no social media just dinner and laughs. I enjoyed it very much and they all loved the skirt so much they ordered. But overall I had an amazing day with my friends and ate enough where it was comfortable. I wish every one a happy thanksgiving …..Thank you for reading, use the code and enjoy.
xo, love2bcouture.
     You guys can get the skirt and anything in the site, Just use my code for a percentage off.( 20% discount code: JOHANNAXOXO)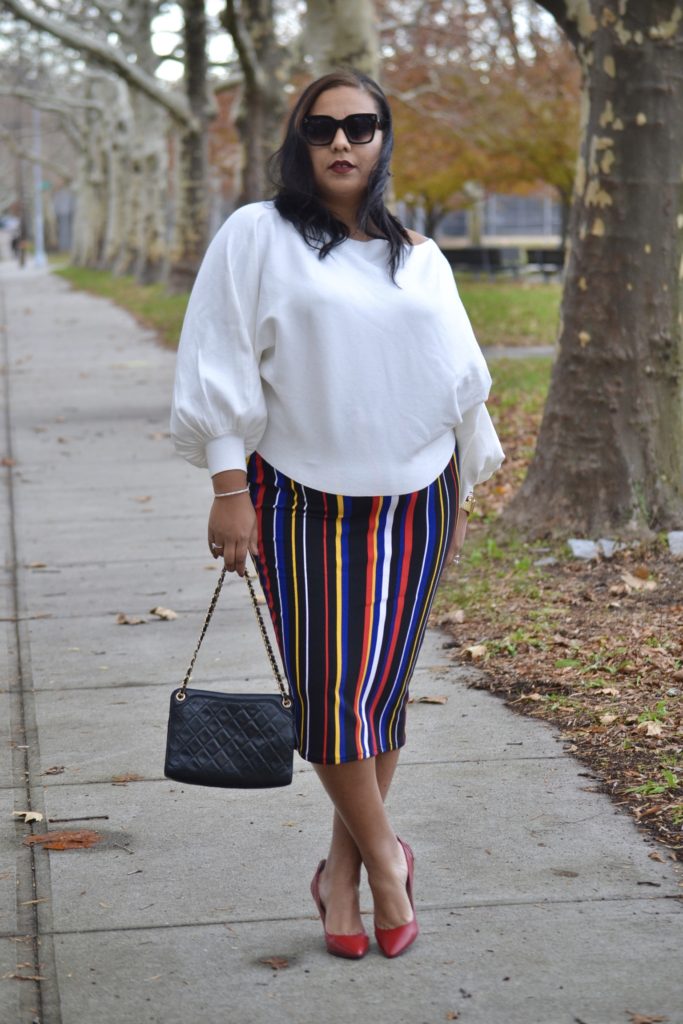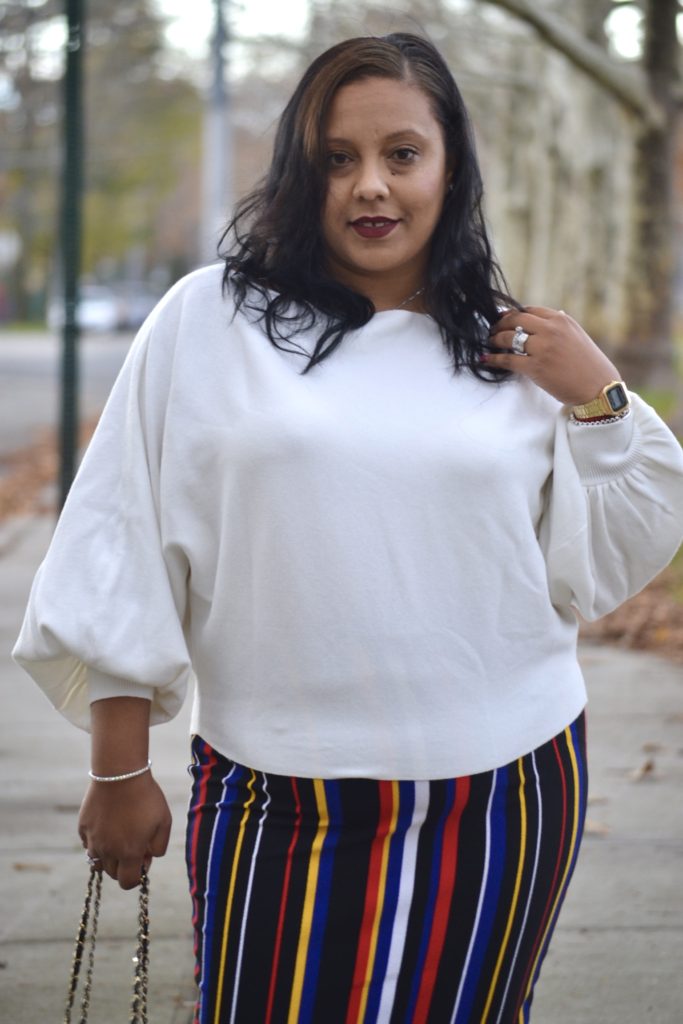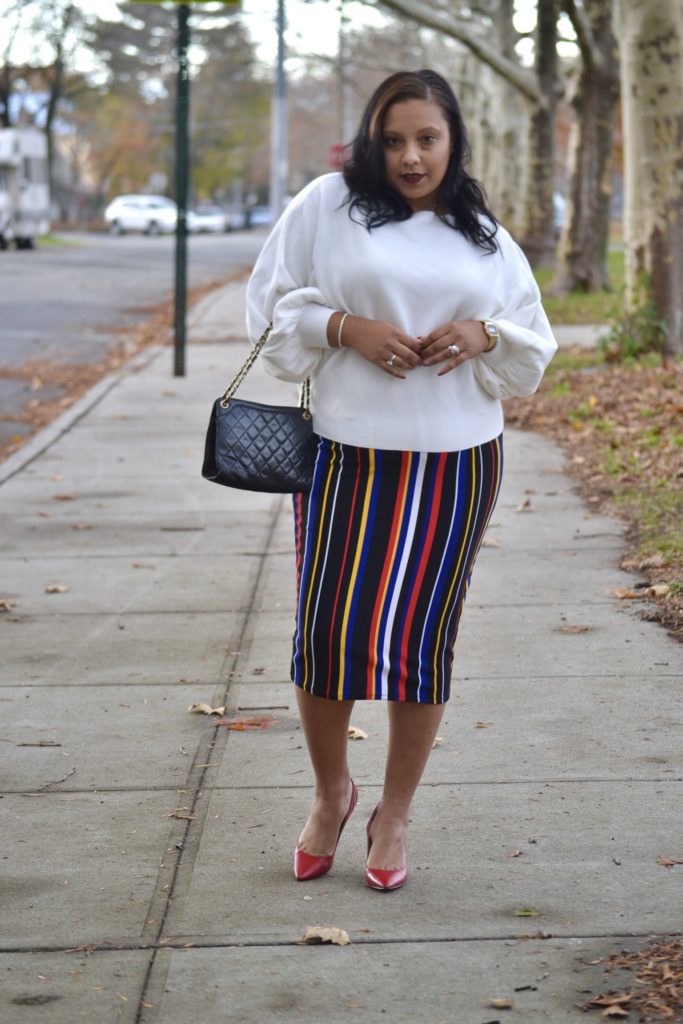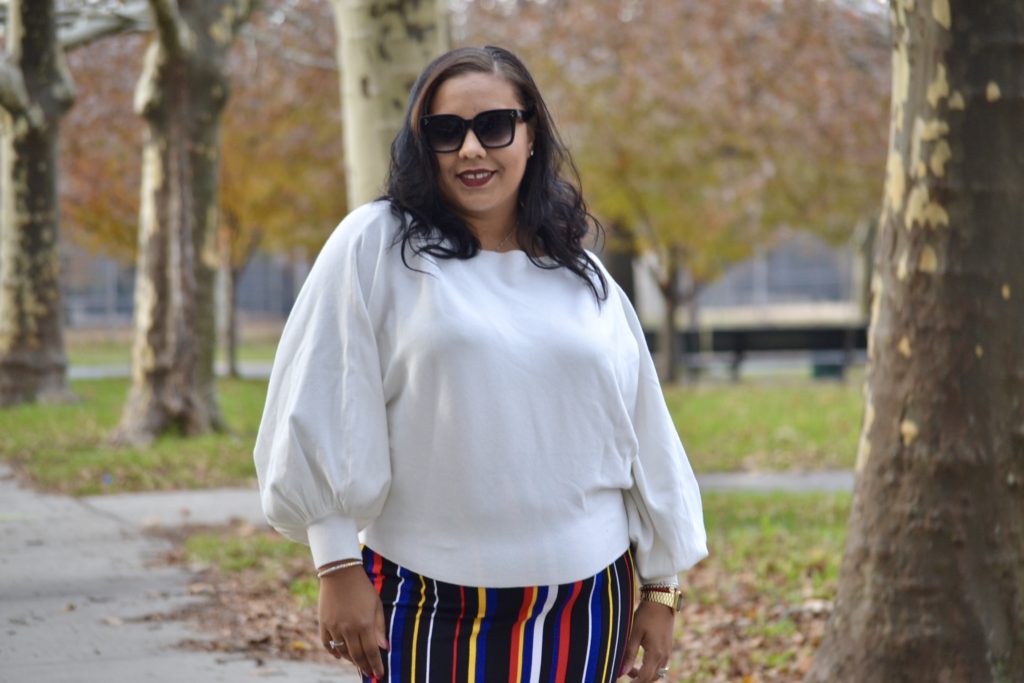 Photographer AJ visuals