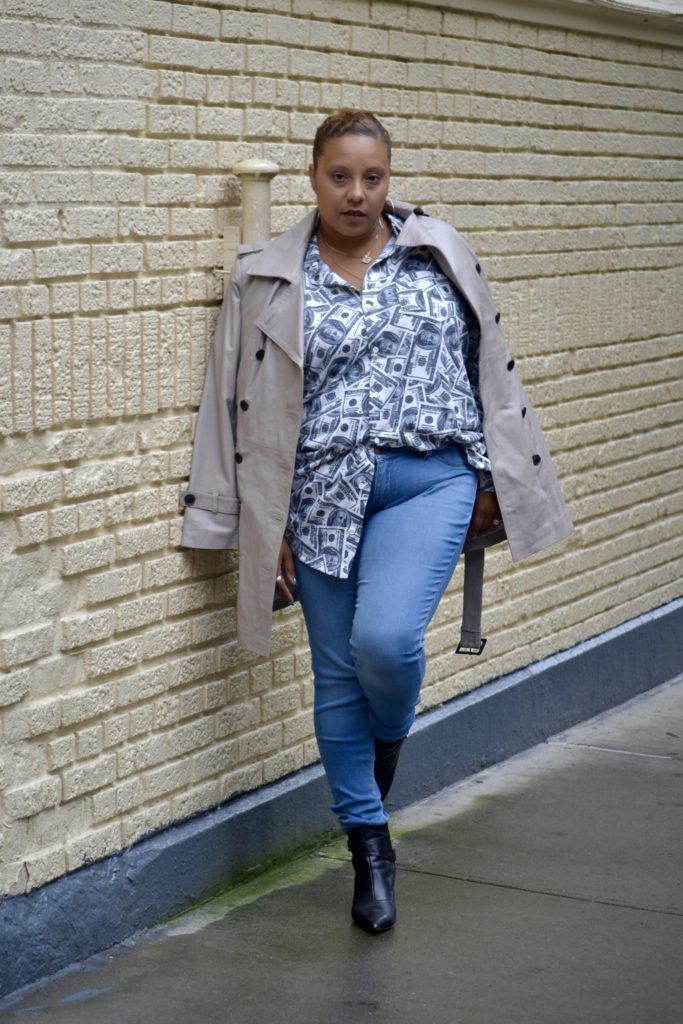 This Post is sponsored, However every opinion is solely 100% my own.
Outfit Details:Jeans – Fashionnova, Boots – DVF, Jacket Sweet Prima, Shirt – Missquided
Can we just talk about how this Money Shirt Dress is so totally me. Two weeks ago when Fashion Week was happening, I wore this look to the last day of the shows. Off course it was pouring out and the dresses I wanted to wear with sandals had to be scratched off my list because it was kind off cold and muggy. But no problem I always find a solution to fixing things when it comes to my wardrobe emergency. This Dress was truly the best ever because everyone was loving it. I decided to wear it with jeans, some booties and this lovely leather from Sweet Prima. Check there site, you will fall in love all over again!:) Lets all scream on how amazing this fine and classic lather is soft as butter. Let me tell you how the money is super worth it. Also, its warm, true to size and theres an olive color to this leather on this site. you guys I cannot stop obsessing and will definitely run to get myself the others. Its kind of like a Trench Coat but in leather. people were asking me all around about this jacket and off course I had to rave about it while talking and networking with other bloggers at the event. I had to transition my summer looks into fall by wearing a dress as a shirt, why not….
This is my first time owning a leather jacket that fits me and all around looks good haha! remember love yourself. Show your confidence by wearing things you love and its your style where you remain unique at all times. Honestly I will wear this jacket till the buttons fall off, haha! You all know I'm super extra and love life when something looks this good. However, I hope you all have enjoyed yourself this past summer and now that fall is in lets make it count, have fun with fun looks. I will deliver some different outfits that i know you all will love. I am evolving as a blogger where my looks are similar but with a lot of spunk. Thank you for always supporting me and being there loving my looks and being so loyal.
Thank You for Stopping by, xo Love2bcouture!