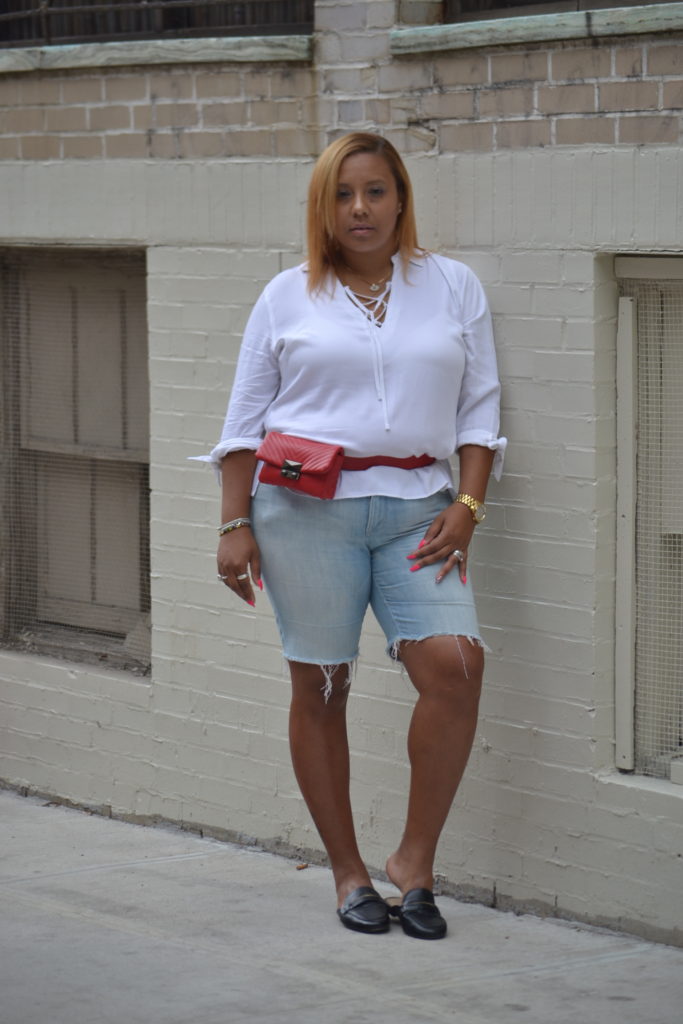 Outfit Details: Jeans – Old Navy Flirt (similar), Shirt – Lane Bryant , Shoes – Apt Kohls (similar), Fanny Pack – Bloomingdales Aqua
With the temps still on the 80's in NYC I will stay rocking my short jeans and dresses because I am not ready for for colder weather. I love when I can wear comfortable clothing that can keep me cool. Don't get me wrong a bit of breeze at night sets the tone to feeling super amazing because theres no sweating involved and I am all for it. Except I'm not ready for coats, OMG Noooooo!! lol…However, the other day  I attended a fabulous event for Metal and Smith which was all jewelry. All I could is say WOW. I wanted everything that those unique vendors were selling. it was so amazing and  off course me I wanted every single thing there. Stay tuned for that post of that event only. 
I love being my stylish self and no so much clothing I wore these jeans I cut off myself and slips that look like shoes. This is one outfit that i cannot stop obsessing lately because its so chic. At the same comfortable to the max. It can be worn to a nice dinner date or a casual friends gathering. Honestly its great for now as the weather is starting to drop and narrowing down the outfits of hot hot weather.  I wont lie, these shoes are a trend that should stay because I absolutely love it as well as the fanny packs. Mix and match everything to make it more f your style and feel.Brands make them in so many different prints and colors on both and you can indulge to make your outfit and style more fab. Remember that some trends can kick off some of your outfits to be awesome and I'm here for it. Being casual yet chic is really good for the soul, HA! so matter what you lovers do, enjoy the hot weather and cool temps at night as well as, some fanny packs and half shoes, OH MY! What you think of this outfit, Love it or Hate it?  I hope you all had a fantastic summer and looked your best. Lets chat about it, let me know your favorite trend this season?
Thank you chicas for visiting, 'xo, Love2bcouture